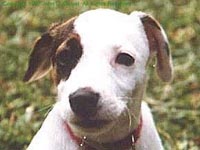 This is Judy here, everybody loves me. I'm a Jack Russell Terrier and smart as a whip. I do lots of tricks that my daddy taught me, but my speciality is being cute. I know how to do over twenty commands now (see my Command Summary), and am learning more every day. People think I'm cute and cuddly, but I have more courage than a German shepherd and more tenacity than a pit bull. I like to dive and swim in the pool, where I can keep my cool, but mostly I love running around chasing squirrels. I enjoy watching any movie or TV show, as long as there is a horse or two and maybe another dog. My favorite snacks are chicken nuggets and ice cream, but I love people food the most, even though the Vet says it's bad for me. My Daddy takes me on walks all the time where I get to see all my dog and people friends, and as I said before Everybody Loves Me.
06/2000: Great News! Judy is pregnant! Judy mated with her new boyfriend, Roper and should have a litter early August/2000. We're hoping for at least 3 puppies. Right now she's not slowing down yet, but she's starting to show a little. Being a mother is tough on a little dog.
07/2000: Latest News! Judy is starting to look like a cross between a silk purse and a pot bellied pig's ear. Everything is going ok so far. We made a visit to the vet so he knows what to expect. So good so far...

07/27/2000: Puppy-Cam Online! Judy is now online 24 hours a day, 7 days a week with her new "Puppy-Cam" site! Visitors can view a new picture every 15 minutes.
08/01/2000: Judy delivers! - Judy gave birth to six healthy puppies today, five girls and one boy! Congratulations!
09/04/2000: Cute Dog Cam offline - The puppies are too big to stay inside anymore, no camera outside.

We expected a maximum of three puppies, but ended up with six! We've already placed three of the little ones before they were even born, but now have three extras that are going to need good (really good) homes. If you are interested in adopting one of Judy's offspring, please read the guidelines below. These guidelines are for your protection! JRT's aren't toy lap dogs, but are serious hunting dogs. Being a "working" breed doesn't mean they can't be great house dogs, but they have to be handled different or you will loose your furniture, shoes, keys, remotes, cell phones, pagers, anything that isn't nailed down.

Adoption Guidelines: (sorry, all Judy's puppies found good homes, but here are some good JRT guidelines anyway)
Time to spare for training.
A Fenced back yard.
Financial commitment to meet the puppy's ongoing needs.
Patience and love
Read and understand the risks involved ( see: Jack Russell Terrier Club of America, Inc. ).
Willing to make a commitment to the puppy for life.
Have someone at home most of the time.
No household cats (see "risks" above).
Search for a US Telephone Area Code: Free Area Code Search Map
Search for a US Zip Code: Free Zip Code Boundary Map